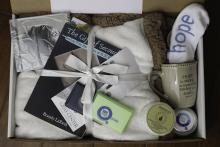 Dear
Thank you for reaching out to request a Box of Hope. A volunteer lovingly assembles these Boxes, filled with items of encouragement and reminders of hope, as well as helpful resources. It typically takes one to two weeks for preparation.
We strongly believe that the traumatic grief of suicide loss is not a loss that someone should navigate on their own. Therefore, we encourage anyone navigating this type of grief to reach out to mental health services and grief support services to obtain adequate support on this journey.
Select the "Struggling and Need Help" Link on our website to connect with mental health and grief services available.
Never forget, You are not alone on this journey.
Jenny