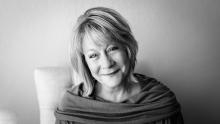 We live in a beautiful, yet broken world, where none of us are exempt from suffering. Thankfully, HOPE is and has been like life-giving, powerful oxygen to our family through times of suffering. 
My name is Linda Pulver. Since 2017, I've been the Director of HOPE IS OXYGEN.  I am a grateful believer in Jesus Christ. I am married to my best friend – my husband of over 30 years. We have three adult daughters, a son-in-law, and three grandsons. Two faithful dogs share our empty-nest. We love and have a passion for LIFE. 
I have been in need of God's life-Sustaining HOPE many times. For me, it's been through these times that the HOPE God gives, and the HELP provided by a very Supportive Community, and Mental health professionals sustained me.
My oldest brother's drug addiction, which led to dealing drugs, multiple imprisonments, rehab facilities, and then his untimely death in a horrific car accident
My sister-in-law's suicide attempt soon after his death and ultimate death from a drug overdose in a hotel room
Their child's grief and difficult childhood due to both his parents' choices and early deaths
My parents' bitter divorce
My mother's deep sorrow and depression over her son
My father's remarriage and subsequent 20 year estrangement between him, all of us siblings and our children
All 3 of our daughters' near death experiences at their births (a cord wrapped around a neck, a 24-hour labor birthing trauma and a heart defect)
Miscarriages
Bullying
Suicide attempts by two other close family members
Bulimia
Alcohol and prescription drug abuse of family members
Infidelity and divorce within our family
During the past 6 years, the serious illnesses and deaths of both my parents, and the cancer diagnoses and subsequent, aggressive treatments for my two remaining siblings
What has allowed me to get through these difficult times has been HOPE – God's life sustaining hope
In college, a friend gave me a pocket-sized pack of Bible verses, my first experience of the life-giving power of God's promises to me. I ran many miles, reading and memorizing those verses, claiming their promises, such as "The Lord is close to the brokenhearted, and saves those who are crushed in spirit" (Psalm 34:18) ; and "Fear not, for I am with you.  Do not anxiously look about you, for I am your God.  I will help you, I will strengthen you.  I will hold you up in my victorious right hand of strength." (Isaiah 41:10)
These words were life to my heart and HOPE for my soul. They kept my eyes on Him, our sustainer of life and source of HOPE.  Over the past 40 years, I have continued to cling to God's promises of HOPE, Help, Restoration, Strength, Courage, Love, Protection, and so much more.  As I have done so, I have witnessed many miracles: 
Restoration in broken relationships
Peace remaining through life-altering illnesses
Addictions defeated
Health Restored
Lives transformed through faith in God
 
HOPE can be restored after it almost is lost. Miracles still happen as have I seen lives transformed through faith in God and His son Jesus Christ. I have seen amazing beauty reborn from the ashes in countless ways. 
In 2005-2011, as the Director of Children's Ministry at an Oklahoma Celebrate Recovery, I gave away many handmade HOPE packs, filled with God's promises, to the children of drug addicts and alcoholics. In 2017, I finally acted on my long-time dream of giving away HOPE packs filled with 30 Bible verses, prayers and crisis hotline numbers, to those around me in Oklahoma, struggling with loss of HOPE and at risk for suicide.  Now, HOPE IS OXYGEN is an entity. We are partnering with many individuals and organizations. We have given away over 40,000 Hope Packs and are developing other Hope Resources, such as our Art Therapy Coloring Book and Suicide Prevention Stickers we dream of placing in every public bathroom stall in Oklahoma and beyond! God has opened amazing doors and we believe it is just the beginning of how He will Restore HOPE, save lives and bring more beauty from the ashes. 
Our prayer is that when we are in heaven, we meet someone we never even knew who greets us with these words "Thank you for reminding me of HOPE. I am a life that was changed." 
"You see, there is something profound about HOPE, something so meaningful when you cling to what is beyond anything you know and understand.  When that happens deep in your head and in your heart, something shifts…"  ~ Hope Heals, Kathryn Wolfe.  
HOPE is essential…like life giving oxygen. 
HOPE restores life
HOPE heals wounds
HOPE sustains during the darkest of times. 
HOPE changes lives. 
Changed lives change the world. And that, my friends, becomes the most powerful ripple effect that goes on and on. 
Hope Restored, Lives Saved. 
PLEASE JOIN US IN OUR MISSION.