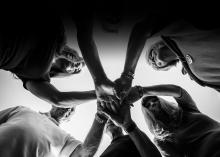 According to the World Health Organization, almost 800,000 people die every year from suicide. At Hope is Oxygen, we believe that number can be reduced. Dramatically reduced. 
Suicidal people are desperately attempting to escape suffering that feels unbearable. They have lost hope.
Suicidal people are so blinded by their desire for their emotional pain to stop that they see no way to relief other than through death. They have lost hope. 
Most suicidal people are deeply conflicted about ending their lives. They wish for an alternative, but they just don't see one. They have lost hope. 
At Hope is Oxygen, we believe that one of the most important ways we can help prevent suicide is by restoring hope.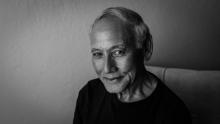 We believe that the ability to hold on to powerful, life-sustaining Hope in God, even during difficult periods of suffering, is the key to life in this beautiful, yet broken world. The late, great evangelist, Billy Graham said it best, "As oxygen is to our lungs, so HOPE is to our soul. And the Bible is filled with hope." We simply cannot survive without hope. 
At Hope is Oxygen, we seek to restore hope through the following actions…
Our Gifts of Hope Packs
We seek to restore hope to people who are losing hope (and to people who simply want a reminder of the hope God gives) by giving away Hope Packs filled with 30 different, powerful messages of God's hope, strength, courage and love. We give our Hope Packs to all kinds of people—depressed people and happy people; suicidal people and non-suicidal people—because, let's face it, we all need hope in this world! To date, we have designed and given away over 40,000 of our business card-sized Hope Packs, which people can carry with them anywhere they go. We believe in the power of God's word to transform lives by replacing negative, harmful, self-defeating thoughts with God's positive, hopeful, life-giving promises. We include encouraging verses such as the following: "When I said, my foot is slipping, your unfailing love supported me. When anxiety was great within me, your comfort encouraged me." Psalm 94:18-19. 
Our Hope Packs also include a card with suicide hotline and other crisis hotline numbers. We believe that suicidal people often do not know where to turn when in crisis. This card included in each Hope Pack – serves as a life-saving reference. 
We have heard so many stories about how our Hope Packs have helped restore and sustain hope--even in people in despair—people who thought they would never feel hope again. Many organizations, many people working on the frontlines with people in despair, are now giving out our Hope Packs. 
We love giving Hope Packs away at no cost to the recipients. If you or your Organization would like a Hope Pack(s) for yourself or for those you work with/love click the following link.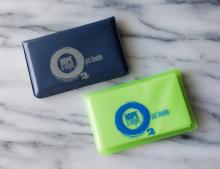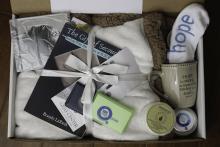 Our Gifts of Boxes of Hope
We seek to restore hope to people who have lost loved ones to suicide by giving them gift boxes filled with gifts of comfort and hope. It is said that people who lose a close family member to suicide experience a trauma on the same scale as those who have lived in a concentration camp. The likelihood of those families falling apart and of more suicides occurring within the family increase greatly. We want to remind all of those people that they can hold on to hope.
Our Boxes of Hope include gifts of comfort and hope, along with a handwritten note from three women who have lost loved ones to suicide.
We hope to offer these to loss survivors in other states as our funding increases.
Our Gifts of Hope Art Therapy Coloring Books
We seek to restore hope to people who are at risk for losing hope by providing them with the ability to color art , while being encouraged by corresponding scriptures. These art therapy books provide people of all ages an opportunity to express themselves creatively while working through their stress, grief and loss. Art provides a powerful release of feelings that can be healing to the mind, body and spirit. Art therapy has proven to reduce symptoms of combat stress, post-traumatic stress disorder, traumatic brain injury, anxiety and depression. 
We love giving away art therapy books at no cost to the recipients.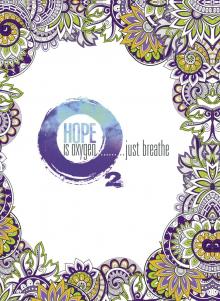 Our Words
We also seek to restore hope to people who are in need of hope through speaking with a variety of different groups about our personal stories of holding on to hope. Through our stories, we also hope to reduce the stigma surrounding mental disorders and suicidal people. We are hopeful that if we can reduce this stigma, many more people who are thinking of taking their own lives will feel comfortable seeking help.
Please let us know if you would like us to share our stories with a group.
Our Participation in Suicide Prevention Events
We seek to restore hope to people by participating in suicide prevention events, where we pass out our Hope Packs, along with AFSP Suicide Prevention Hotline Number magnets and cards, and brochures of local resources available for those in crisis in Oklahoma, including NAMI, Mental Health Association of Oklahoma, Recovery Programs, the Calm Center, COPES, the Tristesse Grief Center and more. 
Our Distribution of Suicide Prevention Stickers with Crisis Hotline Number/Text Number
We seek to help prevent suicides by moving forward with our dream of placing prevention stickers in every public bathroom stall across Oklahoma and beyond. These stickers will have been approved by the AFSP (American Foundation for Suicide Prevention). The FCC has proposed a new 3-digit Suicide Prevention hotline, "988", for ease in calling. This push for change comes as America's suicide rates are at its highest since World War II. In 2018 alone, counselors answered over 2.2 million calls and over 100,000 online chats. We love giving them away at no cost to you or your organization. We believe that Together, we can save lives.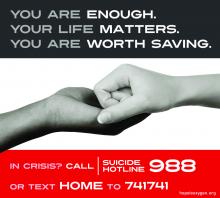 Our Support of Other Mental Health and Suicide Prevention Efforts
We seek to help prevent suicides by supporting other mental health and suicide prevention efforts. For example, this website will always include links to local and national organizations whose focus is mental health and suicide prevention, such as the City of Tulsa Lock Box Program. Tulsa's Lock Box Program provides free lock boxes to lock up guns and drugs in homes. Research has shown time and again that reducing access to lethal means can save lives.